In this article, you will see the purpose and function of a check valve or non-return valve. In addition, you will also see the most important designs, check valve type and how they work.
You have read in article Hydraulic basic principle-part I how hydraulic jack works. Now consider the following example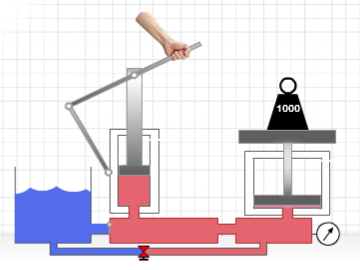 Pressure will build up when pumping the lever on a car jack. The load will lift. But what would happen here if you let go off the lever? The piston will come again to its initial position. But your requirement is to lift the load and hold it in lifted position. For this you need to maintain the built-up pressure.
The solution is non-return valve or check valve. It will allow the flow in only one direction but in opposite direction it will restrict the flow. In the above jack a flap valve is used as a non-return valve.
Similarly, in hydraulic system we use the check valve or non-return valve to maintain pressure and to allow the flow in only one direction.
Spring Loaded Check valve
Most of the check valve is coming with a spring. This check valve type is called spring loaded check valve. The function of a spring-loaded check valve is to open and allow flow in one direction only when pump-side pressure is more than the spring pressure.
Here in figure 5, it is a ball type check valve. However, there are various design of check valve. Some are poppet type, disc type and diaphragm type.
Pilot operated check valve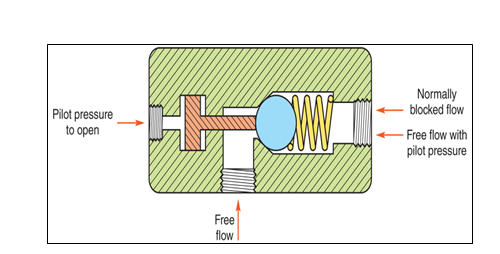 Function of pilot operated check valve or reversible check valve is quite interesting. As the check valve does not allow reverse flow but reversible check valve will allow only when there is a sufficient pressure in control line to open the ball. See figure 6.
In figure 6 when pump is on and direction control valve in position b then cylinder will extend against the load. The pump will built pressure. First check valve behaves like normal check valve but second check valve will restrict the return line flow from rod side. But the pressure line will control the pilot line and open the ball to allow return line flow to tank. Hence, a control pressure is required to allow flow in reverse direction.
Hope You enjoy this artical and learnt somthing. Keep reading and stay in touch with us.