Last updated: December 24, 2020
FAU-G pre-registration has been launched for Android users on the Google Play Store. Today we are going to tell you how you can play FAU-G mobile game first.
As you know, the game was targeted to be released by the end of October. But the game developer (nCore Games) rescheduled the release date in November but unfortunately, there was no news of the game until the end of November. And people were slowly forgetting FAU-G. But on 30th November, nCore Games launched a pre-register link to the game in the Google play store which surprised everyone.
Giving information on Twitter, Indian Game developer company nCore Games said "On the auspicious occasion of Gurupurab, we are starting the pre-registrations of FAU-G: Fearless And United Guards. Pre-register and be the first to play the game.".
How to Pre-register FAU-G for Android Mobile
If you are an Android user, you can pre-register for Fearless and United Guards (FAU-G) mobile games. You will receive a notification as soon as it is available in the Google play store and ready for download. For pre-registration, click on the "FAU-G Pre-Register" button below.
By clicking the button, you will be at the Google Play Store. Then you have to click on pre-register.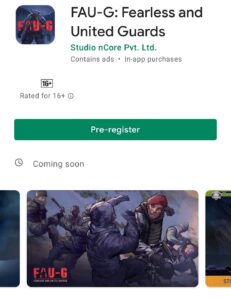 Clicking on the pre-register will pop-up a message "we'll notify you when this game is released".
Just you have to press OK and whenever the FAU-G mobile game is available for download, the Play-Store will send you notifications.